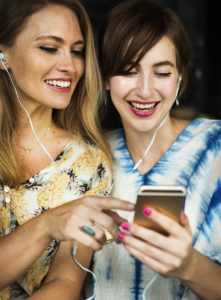 This is how you can make the Spotify experience even better. Do you use Spotify? Then, in all likelihood, Spotify Connect is for you.
Note: Spotify is offered for free but with limited features as when compared to its paid version – Spotify Premium. If you are looking for unlimited music for your phone, make sure that you have the right data subscription to keep up with your choice of music. Check out the right mobile subscription for you at mobilabonnement.
Did you know that you can stream Spotify on your music system? The streaming service gives access to an almost unlimited music library, and Spotify Connect, a relatively new technology, makes the listening experience both easier and better.
In short, technology makes it possible to choose, continuously, which system will play your music. If you listen to playlists while on the move, as soon as you enter the door at home, you can go into the Spotify app and select "Stereo living room", or "Stereo bedroom" (for example) – and so will the music play on there. Then select "Kitchen" if you'd rather have the sound there, and so on.
A number of important differences
It is reminiscent of AirPlay, you might think, and it does to a certain extent. But Spotify Connect differs from AirPlay on several crucial points.
1. The music stream goes directly to the system, ie not via your smartphone or PC. If your phone rings, the music continues. If you turn on the music with your smartphone and then go out to shop, for example, the rest of the family can listen further. However, they cannot operate the facility that is playing, only you who are logged into your account.
2. You operate Spotify Connect from the Spotify app. If you are already confident in the Spotify platform, the learning curve is thus very slack.
3. All the features of the app can be used. Friends playlists and the Spotify Radio feature are fully integrated.
Several benefits
There are many good things about this technology. To summarize: It is easy to set up and use. It is found in relatively inexpensive products. It saves battery when you are at home. The range is good compared to Bluetooth. And: If it's wireless, it's Spotify Connect.
Disadvantages? You're locked into Spotify, and the audio quality is not at par with other streaming solutions (like WiMP HiFi on Sonos or Bluesound).
If you already have a facility at home and want to continue with this, a music streamer might be the thing. If you want to keep the system, but at the same time have the opportunity to listen to music in several rooms, then a multi-room system is preferred